Hymn Books
Christadelphian Hymn Book (2002)
This is the most widely used Christadelphian Hymn Book in the world. It is a revision of the 1964 Hymn Book, a process which commenced in 1993 and concluded with the publishing of the Hymn Book in 2002.
Standard Edition: $22 / Accompanist's Edition: $34 / Pocket Edition: $17 / Large Print Words Only: $14 / Bonded Leather Pocket Edition: $49.50 (The 1932  edition can also be purchased for $9.)
---
Worship Book (2000)
Worship is a book of 130 original songs written for the Christadelphian community across the world. Worship represents the spectrum of praise used today in the Christadelphian community.A wide range of musical styles are within the book, including contemporary pieces, choral pieces, ballads, hymns, rounds, works from original musicals, and so on.
Worship Book Website
Cost: $22.50 / Digital: $10
Instrumental Arrangement files available for free
---
  Music Online
On Christadelphian Music you can find musical accompaniments that you can download for use in Memorial Services, Hymn Sings, or any other service to our Heavenly Father.
---

Jehoshaphat Music is a new website distributing music related materials including handouts, charts, articles, audio classes and booklets.
---
Albums
In His Hands
"In His Hands" is a compilation of songs by Aletheia Burney, Luke Jurevicius and Timon Burney. This album is meditational and reflective in style. The lyrics and ideas contained in the 13 tracks are prayerful in their approach and focus on praise, God's kingdom and God's care and love for us though every moment of our lives.
Children of the Promise (2011)
"Children of the Promise" is a new album comprised of songs written by James DiLiberto and Phil Rosser.  Four years in the making, it was released in December 2011 and is now available through distributers in North America, Australia, and the UK.
View CD Booklet, Backing Tracks and Sheet Music
Cost: $20 CD / $25 digital
In Your Light We See Light (2011)
"In Your Light We See Light" is a collection of songs by Steph Jamieson and Ellie Bilton that were recorded in 2011.
View CD Booklet and Sheet Music
Cost: $20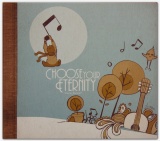 Choose Your Eternity (2008)
The Choose Your Eternity album is a compilation of original Christadelphian compositions by Australian Christadelphians. Many of the songs have been written for the purpose of youth gatherings and conferences in Australia such as Study Weekend and Study Week. Choose Your Eternity was first released at Study Week 2008.
Even So Come
Faithful, chaste, unspotted, watching, undefiled…  These are among the descriptions of those who make up the faithful Bride when their Beloved returns, those whose lamps are shining brightly, whose vision has not dimmed, and whose faith has not wavered. This CD was produced the British Columbian Christadephian Youth Choir.
View Promotional Website
Cost: $15USD or £10
---
Sheet Music
Revelation Oratorio
This collection of 12 4-part vocal arrangements was inspired by a recognition that a large amount of that most enigmatic of Bible books, "The Revelation of Jesus Christ, which God gave to him", speaks of people singing the words that are written.  Composer Oliver Stephens says it is his hope that "choirs, both amateur and professional, throughout the world, might enjoy singing these arrangements as much as I enjoyed writing them"
Listen to audio samples
Purchase for  £18.90 (approx $32AUD)
---
History